SCRR at Wuertz Farm Gourd Festival
in Casa Grande Feb 5-8, 2015
Our Camp

We had 14 members present in 7 rigs. We parked in a cluster and had water and 15 amp electricity. None of us had
a problem with this limited power, even when we had 3 griddles going for breakfast.




Al and Shirley's shade canopy provided a center for activities. Here we are having a buffet breakfast.




On the left, Anais, Linda, Rosemarie, and Joyce are warming up in the early morning sun. On the right, Larey, Tony, Dick,
and Bill are doing the same.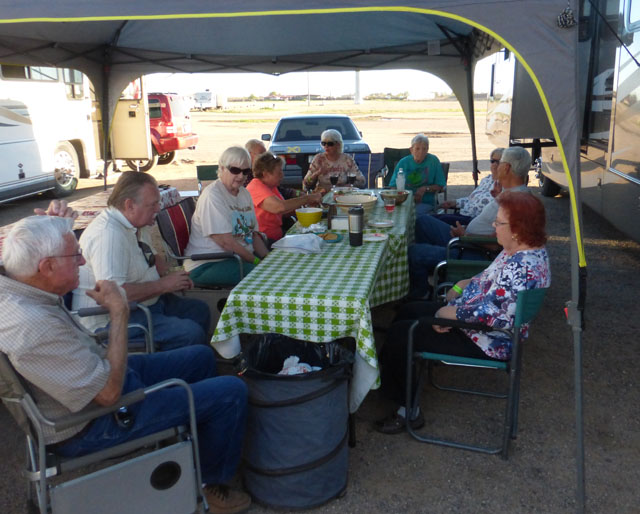 We gathered for happy hour each day.




Sometimes it seems like all we do is eat! Here it is a potluck dinner.




Tony, Ed, Al, and Len relax after dinner.




We are still eating!



The Displays

Wuertz Gourd Farm sponsored this event each year and had a large area of raw gourds for sale. It is amazing how
many types and sizes of gourds there are!




This is the "Welcome Center".




This little member of the National Gourd is helping to secure our gourders. He is featured on one of
the two t-shirt designs they are selling this year. They posted notices here and at the t-shirt sales, apologizing
for the wrong handed salute. They said they goofed.




The outdoor stage had continuous entertainment. On the left is a very talented group of Mexican brothers singing and playing their stringed instruments.
The oldest boy also sang with a wandering Mariachi group. On the right is Prescott's own bluegrass singing group, Just for Mama. When they were not on stage,
they were performing various places around the festival. We also saw solo singers and Indian dancers perform.




Attendance was very good. Here the indoor exhibit hall is mobbed!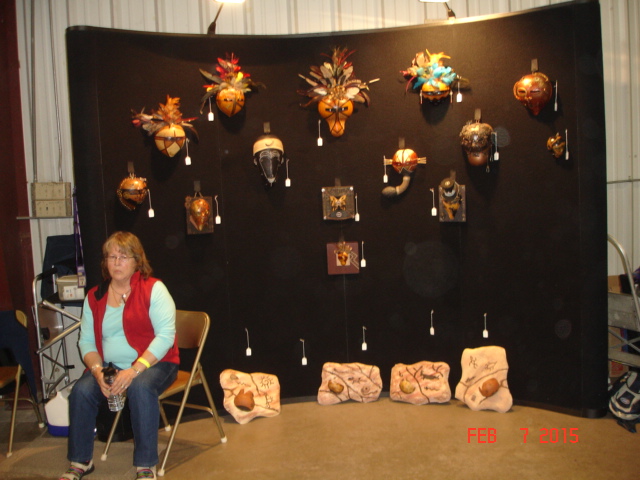 This booth specializes in very elaborate gourd masks.




A beautiful variety of bowls and figurines. The giraffes are similar to the one Shirley got last year, except hers has a knot in its neck.




The next several pictures are from the "Story Tellers" booth, one of our favorites.
The rabbi in the center bears a striking resemblance to the booth's owner.




The owner's wife sculpts the heads from clay, then attaches them to a gourd body.




The owner said that they create art which uses gourds, rather than being gourd artists.




Haloween anyone?




Or Christmas?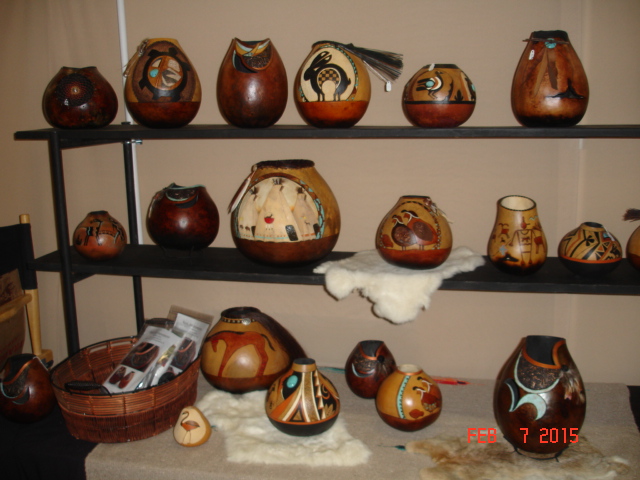 More artistic gourds.




This cactus won't really prick you.




Cute animal gourds.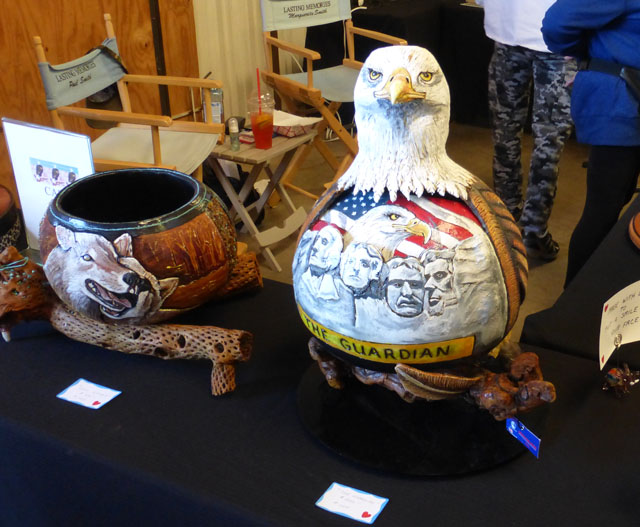 Beautiful artwork!




We saw Just for Mama again, this time singing in the back of the exhibit hall. Between numbers they would
come over and chat with us.




Competition Gourd Displays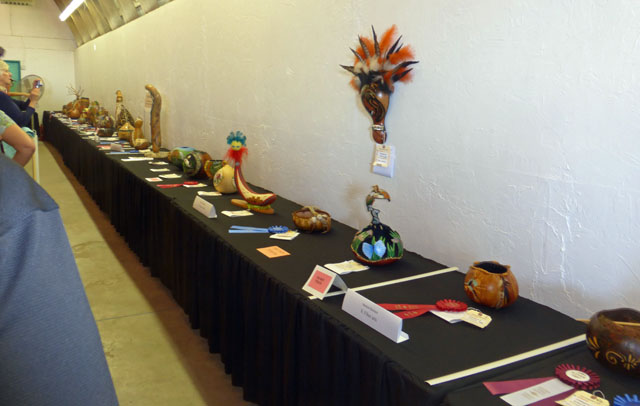 There was always a line to enter the building showing the competition gourds. There was an amazing
collection of ingenious and beautiful creations. Categories ranged from beginners to masters. I don't think
most of them need captions, so just enjoy!




This creation was on a revolving turntable and showed four different animal faces..









Marilyn, and Dick took these pictures