Meteor Crater (Winslow) Rally May 19 - 21, 2014
We camped at the Meteor Crater RV Park. It was very nice with lots of mature trees.
We had a great space to gather. Al had his shade canopy up and there was plenty
of room for chairs and the tables. His canopy survived quite heavy winds just fine.
We enjoyed Happy Hour before dinner.
Some of us took a trip into Winslow. I think this is US 66!
Tourists Dick and Rosemarie pose with the statue in "Standin' on the Corner Park"
The park memorializes the lyrics of the Eagles song "Take it Easy".
"Well, I'm a standing on a corner
in Winslow, Arizona
and such a fine sight to see
It's a girl, my Lord, in a flatbed
Ford slowin' down to take a look at me"
The flatbed Ford is shown in the window, and the "actual" truck was parked at the curb,
as seen in the previous picture.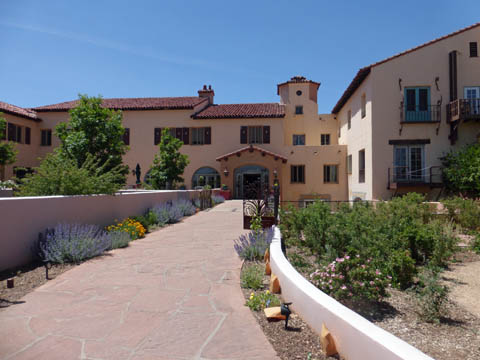 The historic La Posada Hotel was built in 1929 by the Santa Fe Railway and featured service
by the Harvey Girls. It was considered architect Mary E. J. Coulter's finest work. After
the railroad boom ended, it was converted into offices, losing all it's character. Saved
from demolition, it has been in the process of restoration for a number of years.
The gardens are beautiful. Here is one of the ponds.
Here we are looking back into the Turquoise Room Restaurant.
The hotel was beautifully restored to its original classiness. They are continuing
to restore additional rooms each year.
Tuesday we went to Meteor Crater, just up the road from the RV Park. They
have a really nice visitor's center shown here with Anais, Ed, and Phyllis.
The crater was created about 50,000 years ago when an asteroid traveling at 26,000 mile per hour
collided with the earth. The crater is almost a mile across and over 550 feet deep.
In the
visitor's center
, er, at the base of the crater, De poses to show her ability to climb
down steep terrain, 550 feet to the floor of the crater. Ignore the carpet and the wall.
The crater was used by NASA to train astronauts for the Apollo mission.
April and Skip are admiring a model of the Apollo capsule.
This is the courtyard behind the visitor's center.
Through the magic of Photoshop, this is an image made up of 5 shots to yield a panoramic view of about 180 degrees.

Thanks to the Gees and to Dick for these pictures