We are eating our Wednesday morning breakfast in preparation for the day's activities.
We toured 3 wineries today. The Page Springs Winery was by far the most
beautiful! Here we are looking from their deck over part of their vineyard. We
asked why some of the vines were covered by nets and others were not. We
were told that the birds only go for the grapes after they turn color, and do not even
notice the green ones.
The viewing deck was nicely equipped with chairs, tables, and umbrellas.
They had several outdoor games. Chess anyone?
On our walk down to the vineyards and the branch of Oak Creek, we passed
a number of barrels stacked outdoors.
I wonder if they acutally play basketball here?
A small stream from Oak Creek runs right along the base under the deck.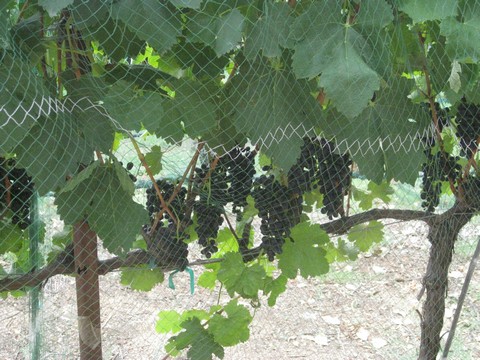 The red grapes are all covered in protective nets. The green ones do not need them.
A short walk from the winery takes you to another deck overlooking Oak Creek.
The creek is beautiful!
I have heard of a snake in the grass. How about one in a tree?
Wednesday night's sunset was gorgeous looking from the rec hall.
Thursday we rode the Verde Canyon Railroad train.
We have two diesel locomotives to pull us today.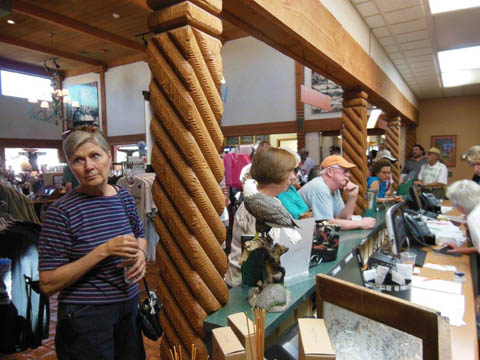 Prior to boarding the train, the gift shop was a welcome atraction.
We are situated in our seats awaiting departure.
Here is Shirley anticipating her very first train ride - ever!
The river looked very welcoming.
The scenery speaks for itself!
The train route pretty much followed the Verde River.
The views were really pretty.
The train was quite long. Here we are looking forward to the locomotives on the
way out.
There are a number of open air cars where you can experience the outdoors and
take un-obstructed photos.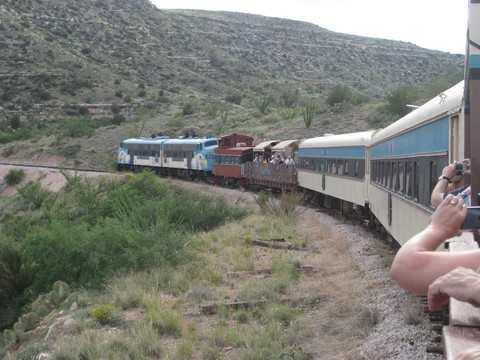 When we reached Perkinsville, the locomotives drove back
past the train and hooked up to the other end. We were then taken back to Clarkdale
in the other direction. It looks funny for the locomotives to be pulling the caboose!
The river looks so inviting!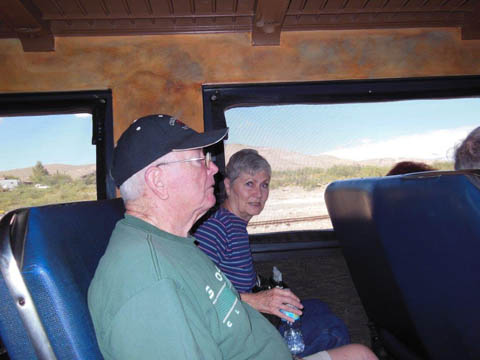 Ken and Kelly, enjoying the ride.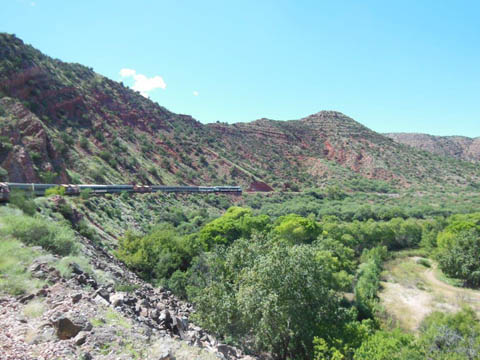 The train stretches ahead amongst the gorgeous scenery.
The train ride took us through beautiful scenery the entire way!
After a long and wonderful day riding the train, dinner sure was good!
Norm and Dick took these pictures.