Upon arriving at the resort, we found a sign welcoming the Sun Country
Road Runners
During our stay, we had exclusive use of their clubhouse and kitchen.
The staff had decorated the clubhouse for St. Patrick's day. They did a beautiful job!
This is the view looking down from the clubhouse patio.
We all had parking spots in the same area. The last minute cancellations caused
a little fragmentation.
We all enjoyed the host supplied breakfast the first morning.
It was really good!
I think many of us ate too much.
But we enjoyed every bite!
Carol and Marv are handling the food.
We are all enjoying our St: Patrick's day dinner (several days early).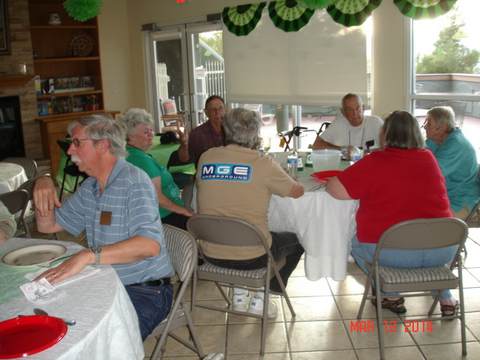 We had corned beef and cabbage and all the trimmings.
Our hosts pose at the start of dinner.
Carol is showing off the special cake we had for desert.
Several of us took day trips. Here we are looking at the red rocks of Sedona.
Rosemarie is posing in front of a shop in Tlaquepaque.
There are many quaint shops here.
This is a several foot high sculpture of an Indian warrior outside one of the shops.
Dinner the final night was at the Vintages Grill. It was about 5 miles from camp.
At the restaurant, Kelly, Ken, Norm, Mary, Linda, Tony, Dick, and Rosemarie pose.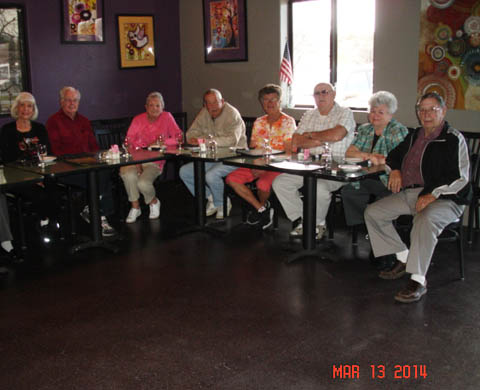 And here are Marilyn, Bill, Shirley, Al, Carol, Marv, Marie, and Hank.